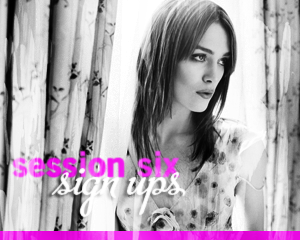 Here are the sign-ups for session six! For this session each round instead of required pictures you will be given a technical theme that you must follow.
Sign ups are open throughout the session.
Signing up is really easy, anyone can sign up as long as your a member and you have read the rules. Leave a comment with your username and I'll add you to the list. And remember to have fun!
01.
jessswann
02.
florencia7
03.
redhour
04.
lady_turner
05.
06.
07.
08.
09.
10.
- We are a no elimination icontest. You can skip as many challenges as you want, but you won't receive any points. The member with the highest points at the end of the round wins.
- You can earn an extra point until voting for the first challenge goes up by promoting and leaving me a link to where you promoted. Promo communities do no count! If it's a locked entry provide me with a screenshot of your promo-feel free to smudge out anything personal.